Managing Line Types
The line type management facility operates in conjunction with file type managment. This facility may be accessed directly through the menu system, or via the file type management dialog. The line types management dialog is shown below;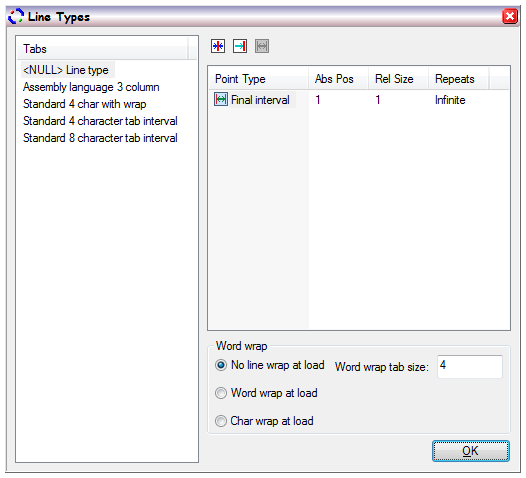 This facility controls the position of tab stops in the main text editor view, and in addition controls the initial state of the word wrapping scheme when a text document is loaded.
There can be as many line type schemes as is neccasary to support all of the file types in the file type management dialog. The line type schemes do not need to have a one-to-one relationship with the file types. Any single line type need not be associated with any file type at all. Overall then, the relationship between line type and file type is controlled in the file type dialog, but the actual detail of all the line types as a whole are controlled here.
Clicking items in the list of line types on the left, will cause the other controls in the dialog to populate with data associated with that line type. To add a new line type, merely right click on the list and use the context menu. Any name can be selected as long as it is unique in the list. The name should be chosen as meaningful to anyone who might use the new line type. The name will also appear in the dropdown of the line types combobox in the file type dialog, and may appear in the selection of the same combobox, if the line type is selected as active for a given file type.