Providing your address details
Once you have chosen your licenses and are satisfied with the quantities you'll need to provide an address. The address fields are further down the basket page. We need an address for two reasons. We need an e-mail address to allow us to send the actual electronic licenses. We also need a street address so that we can ensure we are charging the correct amount of tax. The VAT man demands that we keep records of whom we sold to, and if you're outside of the UK then you may be UK VAT exempt. Obviously the only way we can ensure that the address is valid, is to pass that address to the credit card service provider, on your behalf.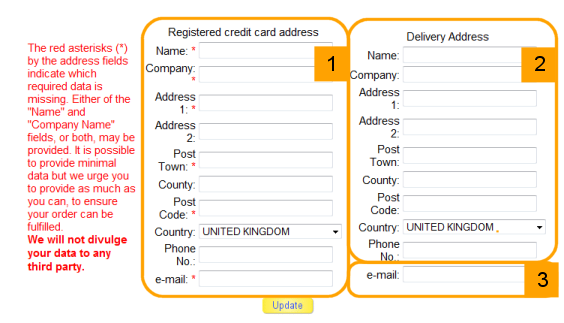 The information circled in orange and numbered 1 must be provided. The address here must be valid for the credit card that you plan to use to pay for the licences. By default niether of the items marked 2 & 3 need be provided. Any physical objects that you buy will be sent to the postal address, and e-mail address specified in 1. If you want us to send your goods to either a different postal address or a different e-mail address, then provide either or both of these things in the boxes marked 2 & 3. When you are satisfied that the address data is correct, click the update button.
If you are from a region to which UK taxation does not apply, you should now be able to see this reflected in the order summary at the top of the page.